Pressemeddelelse fra SolidRun – SolidRun launches new Bedrock R7000 – a fanlesss Edge-AI IPC with AMD RyzenTM 7840HS-processor og 3 Hailo-8TM AI-accelerators / High performance in a tiny, rugged housing
For robust environment
SolidRun has announced the world's first rugged system design that combines 8-core AMD RyzenTM 7040 series processors with multiple Hailo-8TM AI accelerators to create its Bedrock R7000 Edge AI for artificial intelligence (AI) applications. This new member in SolidRun's Bedrock family of fanless modular industrial PCs is specifically designed to meet demanding vision-based situational awareness in harsh environments.
Remarkable fanless cooling
The new system integrates with the AMD Ryzen 7840HS processor, a state-of-the-art 4nm APU with 8C/16T Zen4 CPU and integrated RDNA 3 Radeon 780M GPU. The 20 native PCIe Gen4 lanes and up to three Hailo-8TM AI accelerators can be fully utilized together with NVME Gen4x4 storage, dual 2.5 Gbit Ethernet and 4x4K displays. The CPU and all devices are passively cooled by the innovative fanless cooling system of the Bedrock R7000 in an industrial temperature range of -40ºC to 85ºC
Demand for such high-performance Edge AI box-PCs is growing in all segments of the embedded market, including Industry 4.0, robotics, autonomous guided vehicles, healthcare, transportation, smart cities, retail, agriculture, defense, and utility.
Highly efficient scalable performance
"Efficiency and scalability are key factors in advanced edge AI," said Irad Stavi, IPC Product Line Manager at SolidRun. "Bedrock R7000 stands out as the first fanless IPC based on the ultra-efficient AMD Ryzen 7040 processor and the innovative modular design which enables out-of-the-box integration of 3 Hailo-8TM AI accelerators, each with 26 Tera Operations per Second (TOPS), or even more with a simple customization."
"An important feature of Hailo-8TM AI accelerator and Hailo AI Software Suite is linear scaling of the inference performance simply by adding modules," said Dima Caplan, Product Manager at Hailo. "SolidRun's new Edge AI platform exhibits ample system resources which enable high AI performance at perfect scaling."
Bedrock R7000 features
The Bedrock R7000 is equipped with an AMD RyzenTM 7 7840HS / 7840U processor, featuring 8 cores and 16 threads running at up to 5.1 GHz based on the AMD Zen4 4nm microarchitecture that also integrates the AMD Radeon™ 780M GPU with up to 12 CUs @ 2700 MHz. CPU power can be precisely adjusted in BIOS in an extremely wide range between 8W – 54W.
For Edge AI workloads, up to 3 Hailo-8TM AI accelerators can be installed with combined inferencing performance of up to 78 TOPS.
RAM and storage are modular with 2x SODIMMs supporting 64 GB DDR5 ECC/non-ECC, and 3 NVME 2280 PCIE Gen4x4 devices, including enterprise-grade NVME with power loss protection (PLP). RAM and storage are conduction-cooled for reliable operation at extreme temperatures.
I/O includes 4 displays comprising HDMI 2.1 + 3x DP 2.1, dual 2.5 Gbit Ethernet (Intel I226), optional WiFi 6E + BT 5.3, 5G or LTE modem, 4 USB 3.2 ports and a console port. All I/O is conveniently organized on a single face to simplify integration.
Bedrock R7000 supports all major PC operating systems, including most Linux distributions, Windows Desktop, Server and IoT.
Power, mechanical and thermal design
Bedrock R7000 electronic design is modular, SoM based. Power input is by a dedicated interchangeable module for supporting various deployment use cases. The default PM 1260 supports a wide voltage range of 12V to 60V
The enclosure is made of heavy-duty machined aluminum with an anodized finish. It is offered in 3 variants – 1.0 liter enclosure for dissipating up to 30W by convection, 1.6 liter for 60W and an 0.6 liter "Tile" variant for conduction cooling. The enclosure is ideal for DIN-Rail mounting with a specially designed zero-force locking bracket.
Bedrock R7000 fanless design can handle up to 60W, which is over 3 times the cooling capacity of typical fanless PCs of similar size. Cooling innovations include liquid metal TIM, 360º stacked heat pipes, dual-layer chimney effect heat exchanger and thermal coupling of all internal devices.
The system operates reliably at a temperature range of -40ºC to 85ºC.
Specifications
CPU: AMD Ryzen™ 7840HS/U with Radeon 780M GPU
RAM: Dual channel DDR5 up to 64 GB ECC / non-ECC
Display: 1x HDMI 2.1 + 3x Display Port 2.1
Storage: Up to 3x NVMe PCIe Gen4 x 4
AI Acceleration: Up to 3x Hailo-8 M.2 AI Acceleration Module
LAN: 2x 2.5 GbE (Intel I226)
WLAN: WiFi 6E (Intel AX210)
Modem: 4G / 5G (Quectel)
USB: 1x USB 3.2 10 Gb/s + 3x USB 3.2 5 Gb/s
Console: Serial over USB
BIOS: AMI Aptio V
Operating systems: Windows 10/11/IoT, Linux
Power: DC 12V-60V
Temperature range: Up to -40ºC to 85ºC
Enclosure: All aluminum enclosure, fanless cooling
Dimensions: 30W model: 45 mm (W) x 160 mm (H) x 130 mm (D) – 0.9 liter, 60W model: 73 mm (W) x 160 mm (H) x 130 mm (D) – 1.5 liter, Tile model: 29 mm (W) x 160 mm (H) x 130 mm (D) – 0.6 liter
Mounting: DIN-rail, wall, table top
Published July 25th, 2023 on SolidRun website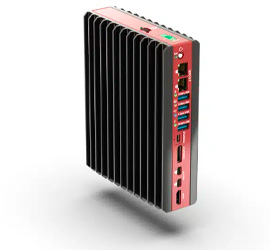 See SolidRun Bedrock products
See Bedrock R7000 Edge AI on Nord Technology product site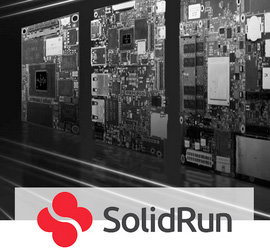 Read about SolidRun
Nord Technology has recently made a distributor agreement with SolidRun. SolidRun is known for its innovative and ground-breaking products.
You can pre-order SolidRun products
If you are interested in a SolidRun product, send us an email and we will make sure that you receive ongoing information about product development and delivery times. It is also possible to pre-order.