– Press release from CompuLab –
CompuLab introduces UCM-iMX93 – a miniature, cost-effective System-on-Module based on NXP i.MX93 processor
Yokneam, Israel 31-May-2023 – CompuLab introduces the UCM-iMX93 System-on-Module, built around the new NXP i.MX93 System-on-Chip family.
Designed to bring out the full capabilities of the i.MX93 SoC, UCM-iMX93 provides up-to 2GB RAM and 64GB eMMC, Gbit Ethernet, RGMII, 2 USB ports, 2 CAN-FD, 7 UARTs and up-to 79 GPIOs. Display connectivity is supported with LVDS and MIPI-DSI. Measuring just 28 x 38 mm, UCM-iMX93 also features on-board WiFi 802.11ac and Bluetooth 5.3 interfaces. UCM-iMX93 is offered with full industrial temperature range of -40C to 85C.
Excellent connectivity, low cost and small size make UCM-iMX93 a versatile solution for many applications such as building and industrial control, medical devices, IoT gateways and measurement equipment.
Software Support
UCM-iMX93 is provided with a full BSP and ready-to-run images for the Linux operating system.
The UCM-iMX93 BSP includes Linux kernel 5.15.71, Yocto Project SDK and U-Boot boot-loader.
Evaluation and Design Support
To facilitate streamlined and rapid product development, UCM-iMX93 is provided with SB-UCMIMX93 carrier board and EVAL-UCM-iMX93 evaluation kit.
SB-UCMIMX93 carrier-board is designed for easy evaluation of all UCM-iMX93 functions. It also serves as reference for the customer's carrier-board design, providing proven building blocks for all key interfaces and peripherals. SB-UCMIMX93 schematics, bill of materials and layout are available.
EVAL-UCM-iMX93 evaluation kit includes UCM-iMX93 and SB-UCMIMX93 hardware set, 5" WXGA LCD panel, PSU, cables and engineering technical support.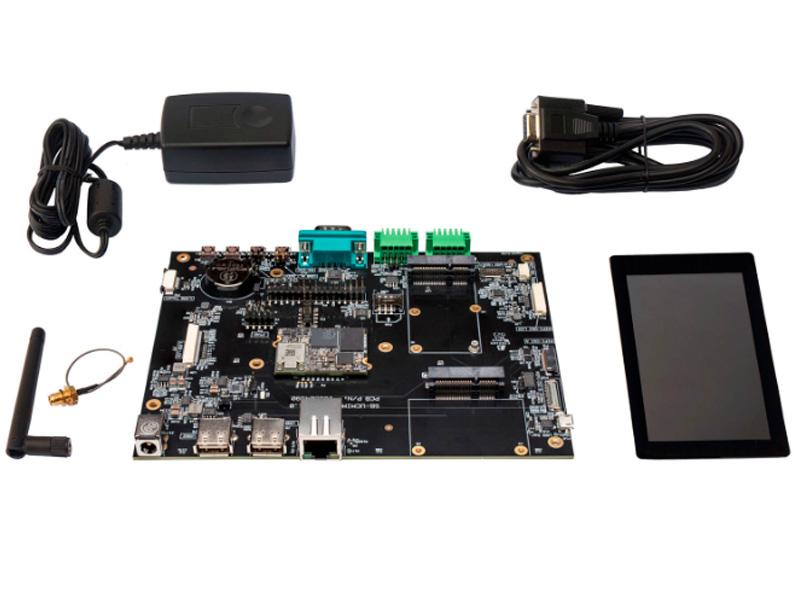 Specifications
CPU NXP i.MX9352, dual-core ARM Cortex-A55, 1.7GHz
NPU Arm® Ethos™ U-65 microNPU
Real-Time MCU ARM Cortex-M33
RAM Up-to 2GB LPDDR4
Storage Up to 64GB of soldered eMMC
Display MIPI-DSI, 4 data lanes, up to 1920 x 1080 @60Hz
LVDS, 4 lanes, up to 1366 x 768 p60
Camera MIPI-CSI, 2 data lanes
Audio Up-to 2x I2S / SAI
Network 2x Gigabit Ethernet / RGMII
Pre-certified 802.11ac WiFi
Bluetooth 5.3 BLE
USB 2x USB2.0 dual-role ports
UART Up-to 7x UART
CAN bus Up-to 2x CAN-FD
General I/O Up-to 2x SDIO, 6x I2C, 7x SPI, 6x PWM, 79x GPIO
Debug JTAG debug interface
Supply Voltage 3.45V to 4.4V
Connectors 2 x 100 pin, 0.4mm pitch
Dimensions 28 x 38 x 4 mm
Temp. range -40C to 85C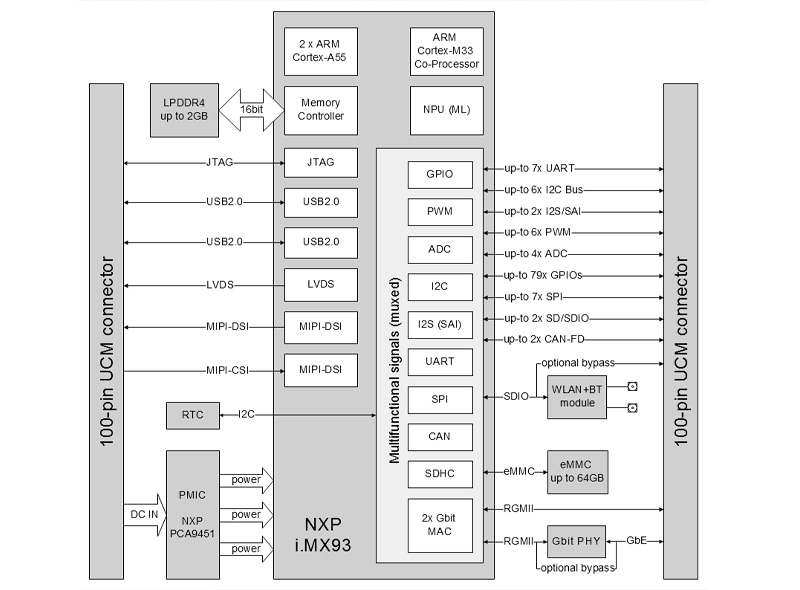 Contact us
Contact us here for more details, availability and prices.
Email: email@nordtechnology.dk
Phone: +45 7027 0415